XR 1 Stainless Steel Oval Sportsman Racing Gray Exhaust Muffler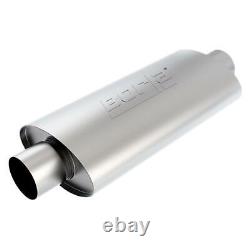 XR 1 Stainless Steel Oval Sportsman Racing Gray Exhaust Muffler. Reduces engine noise without impairing exhaust flow. The patented straight-through muffler design lowers backpressure while absorbing sound waves. Made from the finest austenitic stainless steel for long-lasting durability. The entire structure is welded.
Proudly made in the USA. Borla® Universal XR-1TM Stainless Steel Oval Sportsman Racing Gray Exhaust Muffler (F44C31) Muffler Inlet Diameter: 3 "a formalized paraphrase Muffler Outlet Diameter: 3 "a formalized paraphrase Muffler Body Length: 12 "a formalized paraphrase Muffler Overall Length: 17 "a formalized paraphrase Muffler Sound: Aggressive / Loud. Muffler Configuration: Center - Center.
The Borla XR-1 Sportsman Muffler was designed for the racetrack to reduce engine noise without limiting power. The patented straight through muffler design reduces noise without restricting exhaust flow. Every horsepower counts in racing, so no competitor will use anything that reduces engine power. Nonetheless, winning drivers in all forms of racing use Borla XR-1 Racing Mufflers. It's because these racers discovered that Borla mufflers cost them no power and that the noise reduction reduces driver fatigue and increases driver awareness.
Borla's bestselling racing muffler is the Sportsman Oval, which is the lightest, most compact, and highest flowing racing muffler in its class. The Sportsman Round incorporates the same design elements for applications requiring a compact, round muffler. Borla's patented straight through muffler design reduces restriction and increases exhaust gas velocity, ensuring that each cylinder is completely evacuated to make room for the incoming charge. This design absorbs sound waves without interfering with power waves.
Borla builds the XR-1 Mufflers with austenitic stainless steel, which contains high levels of nickel and chromium to resist corrosion. This material is harder than the lower grade stainless steel used by OEM manufacturers, but it is also very ductile. Despite this, the increased hardness necessitates the use of specialized equipment to form and bend. The muffler is made up of a stainless steel perforated tube wrapped in several layers of stainless steel sound absorbing material and a layer of ceramic sound absorbing, high temperature material, all housed in a fully welded stainless steel shell. Please note some of our listings use stock photos which may be slightly different than the actual product. We take pride in providing the best service for all customers! RAD Powersports uses the most reliable systems to get your parts to you ontime.
Customer service that is knowledgeable and responsive to your questions. Service that is second to none. Knowlegable dedicated staff that is eager to help. You can expect honesty and fairness if the unexpected happens. The right parts for your YMM.
We have worked tirelessly to create and keep our parts fitment data up to date. See all our products that fit YMM. We come from a background of not only riding enthusiast but also people that are not afraid to turn a wrench. Our Executive Vice President has been working on bikes, sleds and ATV's for 30 plus years. Also, our CTO has been riding and fixing his own toys since he was 12 years old. The point is we are founded by people just like you. We have busted knuckles in the past and we understand how it is to need that part for that weekend ride.
We strive to give you the best possible customer service and get you the parts you need as fast as possible.