Stoney Racing Radiator Electric Fan Fitting Kit Stainless Steel Mounting Cooling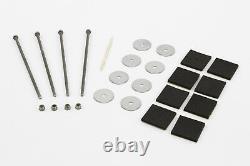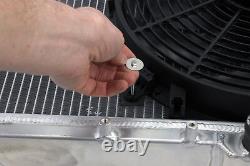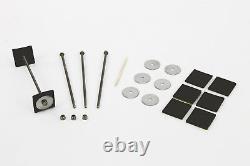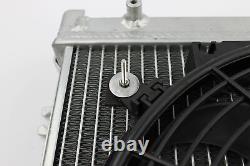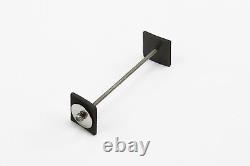 Stoney Racing Universal Stainless Steel Fan Mounting Kit. Our newly improved stainless steel fitting kit makes it easy to mount any universal electric cooling fan directly onto a radiator core. The fitting kit mounts the fan on any radiator core up to 80mm in thickness in the same way as the commonly available plastic zip tie mounting kits, but is much more secure without the issues of plastic caps popping off or zip ties becoming brittle and snapping. It also benefits from being reusable should you need to remove and re-mount the fan for any reason. Each kit is sufficient to mount one fan and includes four specially manufactured 100mm length hex bolts thin enough to fit through a radiator core, along with washers, nylon locking nuts and foam cushioning pads.
Ideal for use with our range of high powered fans featuring sizes from 7" to 16" and motors from 120W to 220W. Certification: Manufactured to ISO9001:2000 & ISO TS16949 standards. 12V Radiator/Intercooler Fans Large range of fans, assembled to order here in the UK with motors that are superior in quality and performance. Universal Stainless Steel Fan Mounting Kit Our stainless steel version of the more common plastic rod mounting kits, much stronger and safer. Suitable for mounting any fan to any radiator core with a depth of up to 75mm.
Universal Radiator Fan Thermal Switch & Adapter Kit Thermal switch to control any aftermarket fan in a range of temperatures. We are a British-based business located in Shropshire, all our stock is dispatched from our UK premises. Looking for a silicone hose kit for your vehicle? How about a FREE one! If we don't already produce a kit for your car and you can supply us with the standard hoses we may be able to have a silicone hose kit made up for you FREE of charge!
This is subject to your car being one we are interested in making a kit for, we may not be able to make a kit for your vehicle if it is rare or not popular for modifying or use in motorsport. The turnaround for this is around 5-7 weeks from when we receive your stock hoses, so unless you can source a spare set to send us your car would need to be off the road for this period. The postcode should be in capital letters and a telephone number should be provided for courier deliveries. Unfortunately we are not able to deliver to Post Office box addresses. We keep our stock levels as correct as possible but our products are available for sale elsewhere and occasionally when we only have one or two of an item left we may run out of stock before we have chance to end the listing.
Whilst we do re-stock the majority of our items it can be several weeks before an item is back in stock. We do not dispatch orders on weekends or UK bank holidays.
Unfortunately our workshop is on a site that is strictly no retail customers so we are not able to offer collection on our items. Please note that we cannot deliver to Post Office Box or Army Post Office addresses for any international orders.
If the item is dirty, marked, damaged or otherwise affected from attempting to fit we are unable to offer a return unless the item was incorrectly sent or faulty. Once any sealed retail packaging is opened we may not be able to accept a return, so we recommend reading the listing carefully and checking the item through the packaging where possible before opening. Lost, Damaged & Faulty Items. If your item arrives damaged or faulty please let us know as soon as possible. If you need to sign for your item and the outer packaging is damaged when the courier hands it to you please write "DAMAGED" next to your signature. Our new workshop is in a rural location with no landline connection and very poor mobile reception so we can no longer offer telephone support. Purchasing an item from us is considered as acceptance of these terms and conditions.