Vibrant Performance 17995 Stainless Steel Race Muffler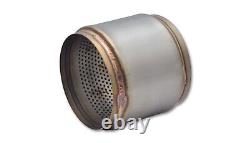 Helps Reduce Noise Levels Produced By High Performance Vehicles. Stainless Steel Race Muffler; 5 in. Inlet Inside Diameter: 5.000 in. Main Piping Diameter: 5.000 in. Outlet Outside Diameter: 5.000 in.
WARNING CA Proposition 65: No. Vibrant Performance has one of the most complete offerings of mufflers & resonators for all segments of the industry. Our'true straight through' internals feature a stainless steel perforated tube that is wrapped in our premium quality, multi-layer sound suppression materials that will produce a low, deep tone while allowing for unrestricted flow and maximum horsepower. Vibrant Performance mufflers & resonators are the perfect fit and suitable for all naturally aspirated and forced induction applications. Vibrant Performance was established in 1997 to design and produce Exhaust and Induction components for the Sport Compact.