Stainless Steel Racing Complete System VW Lupo 2x76mm Double-Walled Bevelled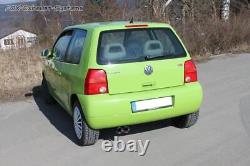 Complete stainless steel racing system VW Lupo 2x76mm double-walled bevelled. Complete racing system from cat. 2x76mm round double-walled 15° bevelled. Without expert opinion (not permitted in the area of?? 1 x FOX stainless steel sports exhaust VW Lupo 2x76mm round double-walled bevelled.
1x Fox Stainless Steel Front Silencer Replacement Pipe VW Lupo. This system is not street legal, as the replacement pipe does not have an expert opinion and is therefore not approved in the area of?? However, other components such as the rear silencer are registration-free with an EC operating permit. 37 kW / 50 hp. 44 kW / 60 hp. 1.7 SDI / 1716cc. These papers are included in t.