Stainless Steel MGP Growler Slip On Exhaust Hotbodies Racing 41302-2403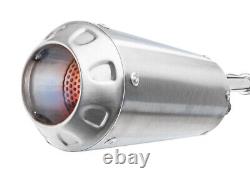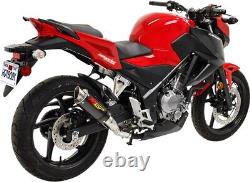 IMPORTANT CALIFORNIA SPECIFIC EMISSIONS NOTICE. Parts that have the same function and affect on emissions as the parts they are replacing. This means that if a vehicle was not originally equipped with a catalyst and all other emissions related controls that were connected (such as oxygen sensors) are reconnected, then the part is considered a Replacement Part. If the vehicle has a catalyst and the installation of the part does not remove the catalyst, and all other emissions related controls are reconnected, then this is considered a replacement part. Slip on mufflers in applications whereby the catalyst is not contained in the original muffler is an example of a replacement part.
Full exhaust systems installed on vehicles that did not originally contain a catalyst and whereby the design allows the reinstallation and original function of any other emissions control related components are also considered replacement parts. Parts that alter the emissions control related performance from the original part they are replacing, These parts may have catalysts in them but they perform differently from the original equipment part or they may require the alteration or elimination of other emissions related control components such as oxygen sensors. These parts must obtain an Executive Order ("EO") from the California Air Resource Board C. Competition or Racing Vehicle Parts. Parts that are used exclusively in competition on race only vehicles.
These parts do not require approval as long as they "are not used on public highways". Labeling a product as being for "Racing Only" or "Closed Course Competition" is not sufficient for it to be included under this classification.
It must be a competition vehicle and must not be used at any time on a public highway. Many exhaust systems, intake kits, fuel tuners, and performance parts we sell are specifically designed and designated as/for "Competition and Racing Vehicles Only". Any/All model application pictures shown are for reference only and solely intended for Competition and Racing Vehicles only and must not be used at any time on a public road/highway.
If an item is to be exported from California, an export waiver is available as well. This is a REQUIRED guarantee from you that a restricted item will NOT be used on any public highway in California; only on private race tracks in racing or competition use. "EO" number and will arrive with appropriate labels to indicate the approved status. More Info From The Motorcycle Industry Council. International buyers are responsible for duty and VAT charges.
Open 7 Days A Week! Hotbodies Racing is proud to present the MGP exhaust kit for the CBR / CB 300 & CBR / CB 500 models. The Honda CBR / CB 300 & CBR / CB 500 models are sportbikes that changes the definition of the middleweight class.
These motorcycles introduce value, fun, and performance in a package like no other. This torquey parallel-twin exemplifies comfort for daily commuting, while keeping the fun levels up on high for the weekend.
The MGP growler exhaust kit has set the benchmark for high performance slip-ons in the market. The short canister design delivers the look, sound, and value to enhance your ride to the next level. This kit features a compact carbon fiber muffler and stainless steel mid-pipe that accentuates the look of your motorcycle as well as provides substantial weight savings. Plus it will give you that aggressive competition race bike sound that everyone loves. Constructed out of lightweight durable carbon fiber and stainless steel these pipes are built to last.
This slip-on kit requires zero modification to your motorcycle and will include all mounting hardware, making it as easy as possible. The MGP growler exhaust's aggressive styling and mean sound is guaranteed to turn heads, and at a price that is hard to resist. The MGP growler system is the confident choice. Weighs 3.1 lbs vs.
Thanks for shopping with us! Starcycle USA has been serving the world's motorcyclists since 1968.