PC Racing PCS4C FLO Spin On Stainless Steel Oil Filter Polished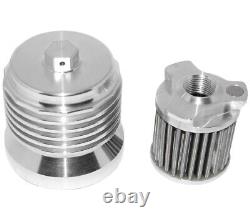 The filter element is made from medical grade, type 304 stainless steel micronic filter cloth to provide unmatched protection against oil particulate intrusion and resultant engine damage. Super strength nickel-plated neodymium rare earth magnet is installed in the top of the element for magnetic pre-filtering of the oil. A sophisticated bypass is engineered for proper differential pressures and consistent operation, delivering a greater percentage of filtered oil while being very easy to clean. The twist lock design assures positive filter element placement and allows for easy disassembly, inspection and cleaning.
A quad-ring gasket doubles the seal between the filter and the engine. The filter housing is made out of a beautiful gun metal anodized aluminum, which not only looks trick but aids in dissipating heat. On the continent of North America. Photos are for reference only.
Actual product may differ from the item shown in photograph.