MSV Racing 304 Stainless Steel'85-'01 CR500 TORQUE Exhaust Manifold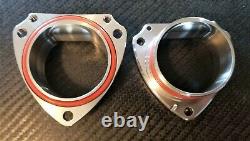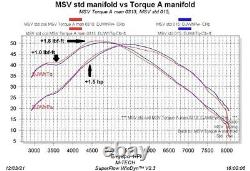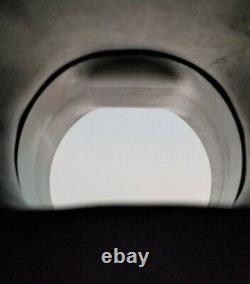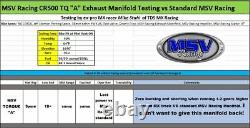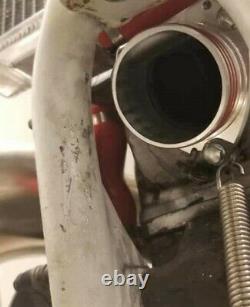 MSV Racing'85-'01 CR500 "TORQUE" Exhaust Manifold in 304SS. Our first customer review of the power output of our new CR500 "TORQUE" Exhaust Manifolds from Doug Benson Ex-Factory Kawasaki KX500 Race Mechanic- January 5, 2022.
While doing the first top end on my 2000 CR500, I decided to go with the MSV Torque Manifold to go with the Boyesen Rad Valve and Lectron carb setup on the bike. After heat cycles and some break in runs we took it out against my 1999 KX500 in the desert. The CR definitely has a broader power band now and definitely is developing more power over that now wider midrange. The CR is definitely head-to-head with the KX in the Mids, but the KX is still a bit more ahead at the very top but very few riders hang out there on a 500 for long. Seems like the design of the manifold is an iteration of a half venturi which creates a low-pressure area and seems to scavenge out the exhaust more efficiently. Three different riders tested it out and all felt a definite advantage in the powerband. Another plus is the piece is beautifully machined and the sealing of both the manifold to cylinder and manifold to pipe is far superior to stock. Any lost gas is lost horsepower. For older bikes that have some issues of wear on the cylinder because of a loose manifold or gasket rubbing around would do good to have this robust O-ring sealing the mating faces. I also run the MSV High-Flow Impeller and coolant elbow on the CR and High-Flow Impeller on the KX500 and don't have any issues with the bikes spitting coolant in the Desert any more. Look at the pics, analyze the data, and read the reviews to see why MSV Racing is your premium CR500 performance parts company. We decided to try out the idea of adding a "D" shape to our very popular standard MSV Racing billet, O-Ringed exhaust manifold design. We MX track and dyno tested 2 prototype shapes to find which worked best. Essentially, we were trying to flatten the torque curve and put more area underneath it because we know that the spread of torque is much more important to lap times than peak power alone. We enlisted the help of ex-pro motocross racer Mike Stahl of TDS MX Racing to evaluate the prototype manifolds at the MX track first and then on the dyno to verify Mike's positive seat of the pants feedback. This new manifold has added torque and horsepower above what our standard manifold makes. Starting at 3050 RPM thru 5100 RPM, our TQ manifold made more torque and horsepower over our standard MSV Racing Exhaust Manifold.
This is power you can feel in the seat of your pants. The greater TQ and pre-peak HP numbers provide faster acceleration, less shifting and the ability to ride in a higher gear aiding traction. This new exhaust manifold now adds another option for the'85-'01 CR500 owner/engine builder. Dyno'd at M-Tech Motorcycles by Matt Worbes in Bend OR, 68 at 3600.
5mm Overbore w/ Wiseco Piston. OEM Porting and Cylinder Head Configuration. OEM PJ Carb Jetted for Conditions. OEM Stator at -5 with OEM Flywheel. New MSV Racing Standard Exhaust Manifold.
Fresh WPS Non-Ringed Chain and 14/49 Sprockets. OEM Ignition Coil and Cap with BR8EIX Spark Plug. 89 (R+M)/2 non-Ethanol with 40:1 Redline Racing Oil.
The Only Change Was Testing the MSV Racing Prototype Torque Exhaust Manifolds. This item is in the category "eBay Motors\Parts & Accessories\Motorcycle Parts\Exhausts & Exhaust Systems\Pipes".
The seller is "carracinjay" and is located in this country: US. This item can be shipped worldwide.
Brand: MSV Racing