Moose Racing Stainless Steel Rear Rotor KTM 1711-0327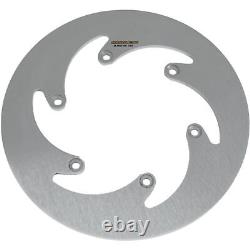 Mud-Proof Solid Rear Disc Rotor. Used by professional off-road racing teams around the world.
Made from high-carbon content stainless steel, which offers greater friction than standard discs. No-holes design greatly prolongs brake pad life in muddy conditions. Cut with a CAD/CAM laser machine, not stamped like stockers. Perfect for muddy conditions, off-road, or on the track.
For MORE GREAT DEALS on powersports parts and accessories! Your friends at MOTOMENTUM appreciate your Business! Were still the same family owned and operated business you know and love. With our growing parts list the Classic Cycle Parts name just didnt seem to fit us anymore.
Whether its an impeller for a personal watercraft, a hyfax for a snowmobile, or tires for your UTV, we have you covered! With over 400,000 parts, we have what it takes to keep you moving forward.