FMF Racing FMF PowerBomb Header Stainless Steel Kawasaki KFX450R 2010 2009 2008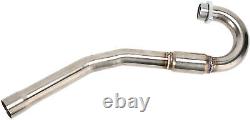 This item fits the following models. The FMF Power Bomb is a four stroke header pipe unit that has a unique bulge precisely located in the header system. A "pre muffler" of sorts, the Power Bomb actually lowers sound output because it creates more surface area to absorb the sound medium (exhaust). The surface area of the perforated core lets the sound exit into the absorbing material (steel wool packing) and then allows the air to expand, cool and ramp back up with the higher pressure air. The FMF Power Bomb is instrumental in reducing the decibel level on any four stroke and because of the expansion and contraction on exhaust through the system, the flow has been increased by nearly 10%.
That means more power throughout the range. Tuned for bottom to mid performance. Powerbomb headers are the front runner in performance headers.
Designed for full service access to oil filter. We do not mark items as "gifts". If your tracking information states'Delivered', but you have not yet received your package you should.
A doorstep, front porch, back porch, garage, window, etc. (A well-meaning neighbor might have taken your package inside their house for safekeeping or for protection against the weather).
Wait 24 hours (in rare cases tracking may say delivered up to 24 hours prior to arrival). We understand that such delays can be very inconvenient when they occur, but we do not have any influence over such situations.