Complete Exhaust Black Stainless Steel Racing MIVV Xm5 Yamaha Mt09 / Fz09 2021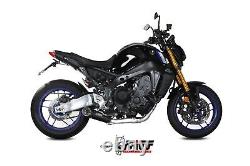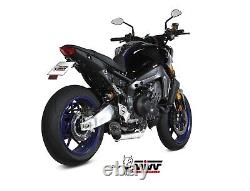 COMPLETE EXHAUST BLACK STAINLESS STEEL RACING MIVV XM5 YAMAHA MT09 / FZ09 2021. Made to improve the aesthetics, sound and performance of the bike, the Mivv slipon exhaust comes from the utmost attention to design, with the aim of satisfying those who want to stand out, even through the look of their bike.
The Mivv XM5 line, the result of the experience gained in the MotoGP, Moto2 and Moto3 World Championships, is the perfect synthesis of racing style and performance. With a design inspired by the exhausts made for the World Championship, the XM5 silencer has a conical shape and compact dimensions capable of emitting the captivating MIVV sound. It is equipped with a 3K twill carbon cap and is equipped with a removable protective grille that hides the dBkiller. IBAN: SM 49 Z 08540 09805 000050123428. Some special items and / or items that require preparation / calibration can take from 5 to 15 days.
1The original packaging must be as intact and immaculate as received. 2 The material must be carefully protected to prevent it from being damaged during transport. Never release negative or neutral feedback quickly!! THE NEGATIVE FEEDBACKS GENTLY DENIGRATORS OR WITHOUT FUNDAMENTAL WILL BE DENIED TO THE COMPETENT AUTHORITIES WHICH DEFAMATION BY MEDIA. The customer with all warranties including withdrawal therefore any problem will be solved where possible.
Feedback for us is very important, please, once the operation is completed, release your comment on our profile, once we receive the feedback, Sestamarcia will also release it as soon as possible. Can I have custom kits when possible? Where specified within the article eg mono ohilins, kit forks, etc. What should I do when I get my orders? When the courier delivers, you will need to verify.
AThat the package is intact, not damaged or wet and in any case conforms to the standard characteristics of a package. B That the number of packages (number of packages) indicated on the bill corresponds to the number of packages actually delivered. Any disputes must be raised immediately to the carrier, in the absence of these the product is considered delivered correctly.
If the receipt of the goods there is damage to the packaging you must. Aexpress a specific reservation: the package is accepted but before signing the document must write Agree with reservation specify why RESERVE, eg.
"Packaging broken", packaging with bruising on the right side... It will be possible after opening the package and found it damaged, be compensated for damage suffered.
Breject the damaged goods if it is impossible to accept the parcel subject or if the damage is visible without opening the package. I can order items that are not present at the store? GET ALL THE LATEST NEWS, UPDATES AND SPECIAL OFFERS ON OUR STORE. Sestamarcia is a company that for over 25 years has been taking care of the safety of the motorcyclist and also thinks about the people behind the wheel.