Retro Tech Future Punk Design Men's Racing Sports Watch 3Bar Stainless Steel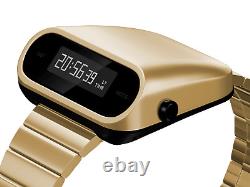 Retro Tech Future Punk Design Men's Racing Sports Watch 3Bar Digital Stainless Steel. Welcome to our store, we are proud to present this multifunctional electronic watch, providing you with a convenient and practical time management experience. Combining modern technology and fashionable design, this watch creates a unique accessory that not only accurately displays the time, but also incorporates numerous practical functions to help you better plan your life and activities. Superb craftsmanship: the watch case size is 41.540.15mm, the strap size is 22cm18mm, the case is made of high-quality zinc alloy, and the case back and pusher are made of stainless steel to ensure durability and texture. Meanwhile, hardened mineral glass covers the surface, effectively preventing scratches and prolonging the life of the watch.
MULTIFUNCTIONAL MOVEMENT: Adopting electronic digital display OLED movement, which is reliable and stable, it can provide accurate time display and support time perpetual calendar function. The time range is from January 1, 2020 to December 31, 2099, and it also supports 12/24 hour system options to meet the needs of your different habits. Multiple Practical Functions: The watch is built-in with a variety of practical functions, including alarm function, all-points chime function, stopwatch function and countdown function, which is convenient for you to time and remind you in your daily life, and you will never miss an important moment again. Smart Sensor: The watch has a built-in sensor that makes it easy to lift your hand to light up the screen, so you can conveniently check the time without having to press a button.
TEMPERATURE DISPLAY: The watch not only tells you the time, but also displays the ambient temperature with an error of plus or minus 1 degree or less, helping you to understand the changes in your surroundings. WATER RESISTANCE: The watch has a water resistance of 30 meters, which is suitable for daily short underwater activities, but please be careful to avoid prolonged immersion in water.
Strong Backlight: The watch is equipped with an OLED backlight to ensure that the time and other information can be read clearly even in low light conditions. Save energy: standby time is up to 30 months, eliminating the need for frequent battery replacements, environmentally friendly and energy saving. Whether for business occasions, outdoor sports, or daily wear, this multifunctional electronic watch can add highlights for you and show your unique taste and personality.